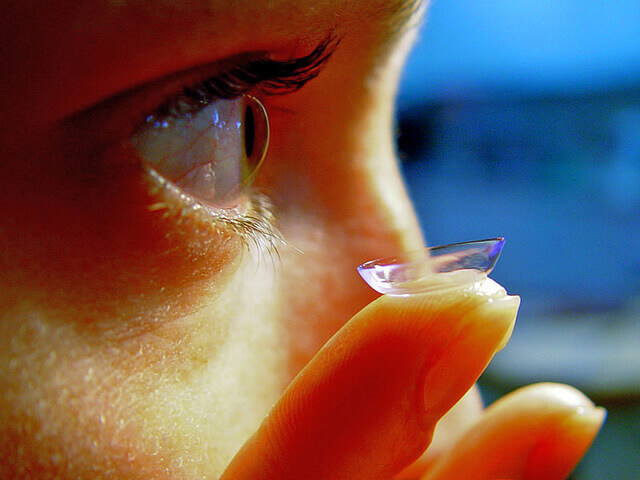 There are many types of hip and cool looking glasses these days, but contact lenses can be preferable for a number of reasons. Not only are contact lenses highly convenient, but they also make playing sports much easier and are a fab option for those who don't carry glasses well.
Sometimes contacts can be perceived as being 'scary' for those who have never tried them before. But a lot of what prevents people from wearing contact lenses is based in myth. Here we separate fact from fiction to dispel some misconceptions about contact lenses.
MYTH: Contact lenses cannot fix astigmatism.
Astigmatism is an abnormal shaping of the cornea that can affect both adults and children. Symptoms of astigmatism include headaches, eyestrain, squinting, distorted or blurred vision at all distances and difficulty driving at night. Despite what some people think, modern lenses have the ability to correct multiple issues with your eyes, including astigmatism.
If you have 0.75 diopters of astigmatism then you should benefit from wearing Toric (or soft contact) lenses. Pricier lenses also exist that have been specially designed to correct astigmatisms. These specialist lenses are the best solution if you are affected by astigmatism, but if cost is an issue, then Toric lenses can be tried out first. At LensesOnline, we sell both Toric lenses and a range of soft contact lenses suited to those with astigmatism; we are happy to help you figure out which solution will work best for you.
MYTH: It is okay to go swimming while wearing contact lenses.
Contact lenses are safe to wear in almost all contexts, but swimming is not one of them. Wearing your contacts while in the water is a big no-no. Your contacts act almost like a sponge whenever they come into contact with a fluid that isn't your tears or a specially designed solution. Unfortunately, bacteria and chemicals can get trapped on the lens, and in the best case scenario you will get a mild case of inflammation. More troublingly, you could develop a condition called Acanthamoeba keratitis, which can cause permanent vision loss if not treated right away.
Even wearing goggles does not eliminate all risk since there's still a chance that water will make its way into your eye. If you have no other option, it is best to use disposables that you can throw away immediately after your swim. Alternatively, you can get prescription goggles.
And this isn't just relevant for swimming pools; you should avoid wearing contact lenses while in the sea, lakes, hot tubs, water parks and even while showering. No tap water either! It is important to keep this in mind since even in times of crisis one cannot rewet a contact with regular water instead of contact solution.
MYTH: Contact lenses are crazy expensive!
This myth isn't true in the least. Contact lenses are often less expensive than a good pair of eyeglasses. At LensesOnline, we sell all sorts of cheap and high-quality lenses, which are a great option for anyone with vision issues – particularly for people who play sports. In fact, since we are an online store, we can offer you better value than bricks-and-mortar retailers because we have lower costs.
We hope we cleared some of these common myths up for you! Lenses Online is here to help you with all your contact lens needs, including lens cleaning. For the widest range of contact lenses online browse our available products or call us on 0800 800 536.